IBM, Broad Institute power research into microbiome
August 24, 2017, 4:10 p.m. EDT
IBM and Broad Institute of MIT are partnering on an initiative that aims to study the connection between body bacteria and autoimmune diseases, using an approach that aims to use supercomputing power that's being crowdsourced via IBM's World Community Grid.
The initiative intends to enlist the public's help in the Microbiome Immunity Project, which is looking at the impact that various types of bacteria and other microbes have on human health. The study will help scientists better understand the microbiome's interaction with human biochemistry and determine how that interaction may contribute to autoimmune diseases, such as type 1 diabetes, Chrohn's disease and ulcerative colitis.
Also See: How population health tools can better manage infectious disease
The study also involves scientists from Massachusetts General Hospital, the University of California San Diego and the Flatiron Institute.
The initiative is seeking to use the surplus processing power on volunteers' computers to conduct millions of virtual experiments on behalf of the researchers. The experiments intend to map the 3 million bacterial genes found in the human microbiome and predict the structure of their associated proteins.
Researchers say they will begin their work by analyzing the microbiome of the digestive system.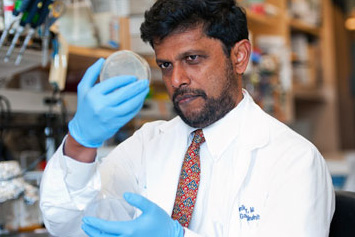 Through the crowdsourcing approach, anyone in the world can help the project by volunteering to provide compute power—these volunteers can download a secure software program that automatically detects when a computer can offer spare processing power and then taps it to run virtual experiments on behalf of researchers. The resulting data from millions of these experiments will be analyzed by the project's research team.
"This type of research on the human microbiome, on this scale, has not been done before," said Ramnik Xavier, MD, Institute Member and a specialist in infectious and inflammatory diseases at Massachusetts General Hospital.
By amassing this computing power, "For the first time, we're bringing a comprehensive structural biology picture to the whole microbiome, rather than solving structures one at a time in a piecemeal fashion," says Rob Knight, professor in the departments of Pediatrics and Computer Science and Engineering and Director of the Center for Microbiome Innovation at UC San Diego.
To learn more about World Community Grid and volunteer to contribute your unused computing power, please visit https://www.worldcommunitygrid.org/